Kathmandu, Aug 30: The 'National Film Award and Lifetime Achievement Award, 2080', hosted by the Film Development Board, concluded on Tuesday.
At a function held at the President Building, Sheetal Niwas, here today, President Ram Chandra Paudel presented the 'Lifetime Achievement Award-2078' to actress Laxmi Giri and 'Lifetime Achievement Award-2080' to actor Shiva Shrestha. Both the awardees bagged a purse of Rs 375,000 each.
Likewise, towards film awards, actor Haribamsha Acharya (Mahapurush), actress Diya Maskey (Prakash), director Dinesh Raut (Prakash), script writer Dipendra K Khanal (Chiso Manchhe), cinematographer Puruswottam Pradhan (Lappan Chhappan 2) and editor Nimesh Shrestha (Dokh) were honoured.
Likewise, 'Aina Jhyalko Putali' and 'Gorkha Beneath the Bravery' received 'decisive award' terming both the movies 'special'. Both the movies bagged cash prize of Rs 25,000 each.
Addressing the award distribution and closing ceremony, Minister for Communications and Information Technology Rekha Sharma congratulated the artists honoured and awarded on the occasion.
"Film can play crucial role in societal transformation since it is an effective medium directly linked to the society. The government is committed to develop and expand the sector", Minister Sharma added.
"A bill of film act is being drafted. We will soon initiate a process to elicit recommendations from film artists. Once the bill is endorsed, the film sector will be in a better position", she further shared.
Also on the occasion, Board Chairperson Bhuwan KC expressed happiness for the opportunity to honour artists with lifetime achievement awards of two years.
"I have been hell bent to resolve the problems being faced by film artists since I became the chair. The board is working placing high importance to the interests of film sector", KC added.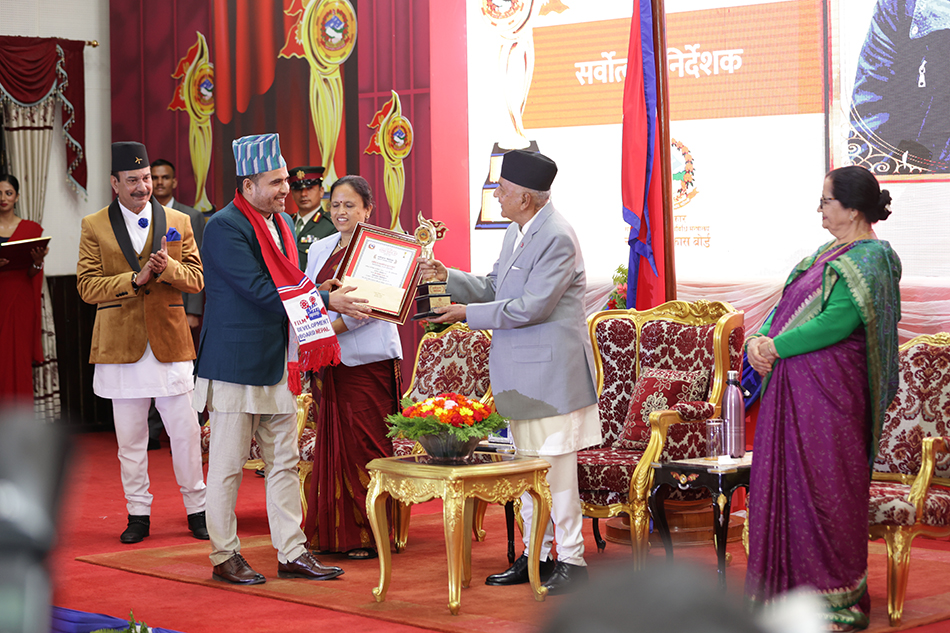 On the same occasion, President Paudel presented 'special film awards-2078' to 'Tulki' and 'Niramaya' and 'special film awards-2079' to 'Bulanki', 'Prasad-2' and 'Chiso Manchhe'. Each movie received Rs 200,000.
A total of 35 artists and lyricists including, Kiran KC, Arjun Shrestha, Ramchandra Adhikar and Arjunjung Shahi and Dabbu Chhetri were honoured with letter of appreciation for their special contributions to the film sector. (RSS)